Boarding The Ferry From Vancouver To Vancouver Island: Routes Of Departure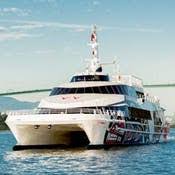 Vancouver is on the mainland of British Columbia. From here, you can head north into the mountains. You can also head south into the United States. East takes you to the landlocked province of Alberta. However, if you head west, you see only the Pacific Ocean. Beyond it lies Vancouver Island. If you want to explore this beautiful island, take a ferry from Vancouver to Vancouver Island.
Terminals
While eight routes are available from Mainland British Columbia, only two are near Vancouver. These two link the city of Vancouver to the Island.
1. Tsawwassen Terminal: Ferries operated by BC Ferries run on a daily basis from this terminal just south of the Vancouver International Airport (Sea Island, Richmond). The trip ends at Schwartz Bay terminal. The Schwartz Bay ferry terminal is around 32 km (20 miles) from downtown Victoria. A ferry ride takes approximately 45 minutes, but the time to and from the terminal adds on another 45 minutes to an hour depending upon the traffic.
2. Horseshoe Bay Terminal: The Horseshoe Bay Terminal is located on Vancouver's north shore. If you intend to visit Nanaimo and points north on Vancouver Island, this is the ferry to take. It offers you the chance to explore the entire northern portion of Vancouver Island.
You can board the ferry from Vancouver to Vancouver Island from either terminal. Both provide their travelers with passenger and vehicular transportation at an affordable price. Both operate all year-round. It depends upon which one is more convenient
Boarding the Ferry from Vancouver to Vancouver Island
When you decide to take a ferry from Vancouver to Vancouver Island, you can select one of two terminals. They both offer not only year round transportation but also similar amenities. Whether you sail from Tsawwassen or Horseshoe Bay terminal depends upon two factors: your destination and your preference.