Diamond Jewelry – What's Hot?
Posted on January 16, 2018
in Jewelry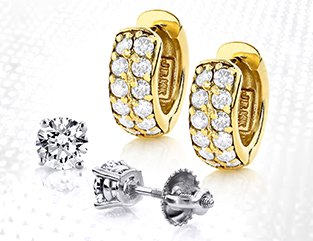 If you are fond of beautiful and attractive diamond jewelry, you are not alone. These precisions stones have captured the imagination of millions of people. History is full of fact, fiction, and legends about things people will do to possess some of the largest and most sought-after stones. Today, diamonds are as popular as ever and here are some of the latest trends in fashion.
Engagement Rings
Many women are choosing rose colored gold for their settings. Rose gold can greatly enhance a diamond. However, the main reason for rose gold rings may uniqueness because they are a little out of the ordinary.
Although the round brilliant cut is still a favorite, more fancy cut like pear and heart shapes are appearing in jewelry cases today. Princess and emerald cuts are also in vogue.
The vintage look is still in. You don't have to invest in antique diamond jewelry to enjoy this style. The top jewelers offer a wide range of affordable vintage style settings and stones for your pleasure.
Black is Popular
Black diamonds are becoming more and more common these days. These stones are not only distinctive; they are very affordable. You'll see black diamond rings, earrings, bracelets, and pendants at most top jewelers.
Pretty in Pink
Although the white or colorless diamond is still very popular, pink is in vogue these days. Some of the most well-known celebrities sporting stunning pink sparklers include Mariah Carey, Queen Elizabeth, Anna Kournikova, Jennifer Lopez, and Blake Lively.
Custom Diamond Jewelry
Not long ago, most men didn't think about designing custom engagement rings for their brides-to-be, but today that has changed. More custom rings are made by top jewelers today than ever. Contact a trusted jeweler specializing in affordable selections and custom jewelry. You may discover that the cost is much less than you thought.