Choose the Perfect Card for your Indian Wedding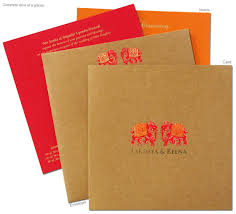 The wedding invitation you choose is the first glimpse your family and friends will receive of your perfect day. Choose the right card that will encapsulate the theme of your Indian wedding. These are some tips for choosing the perfect wedding invitation.
Decide what the Style of your Wedding will be
The first step in selecting the best wedding invitations for your special day is to define the style of your wedding. How formal will your event be? Will you be going for the sense of elegance and sophistication? If so your wedding invitation should be equally as fancy. However, if you are aiming for a more laid-back event, you might want to go for a more casual invitation. In the case of a traditional Hindu or Muslim wedding, handcrafted cards are popular.
Choose your Wedding Colors
Many people want to ensure that the colors they choose for their wedding theme are carried out throughout the whole event, including the invitations. For a cohesive look, incorporate some of the tones of your selected colors in your invitations. Gold, black, and white, are popular color choices for more formal events. However, don't be afraid to go for some bright pastels if that is more your style. The most important aspect of your Indian wedding invitation is that they reflect you and your personality. If you do go for a more creative style as far as fonts and colors, make sure you keep it practical. You want your guests to be able to read and understand the invitations to as not to miss any important details.
Select your Words Carefully
Typically using as little wording as possible on wedding invitations is preferable. You want to be concise so that the essential details the invitations are meant to convey are as clear as possible. It is traditional to spell everything out, including times and the exact name of the venue. Though formal language is usual, feel free to use whatever language you are most comfortable with.
Minimalism is Key
The most intricate and beautiful wedding invitations can be ruined by too many distracting elements. Though decoration is fine, you want to make sure that the style of the card does not take away from what it is really about. This holds true for the wording as well. Trying to squeeze too much onto the invitation can decrease legibility and confuse. Leave out information that is not pertinent at this point.
If you're looking for the perfect wedding invitation for your special day, Visit online to check out Regal Cards today.